SkyscendPay Webinar: Transforming Your Procurement Business Processes [Recording]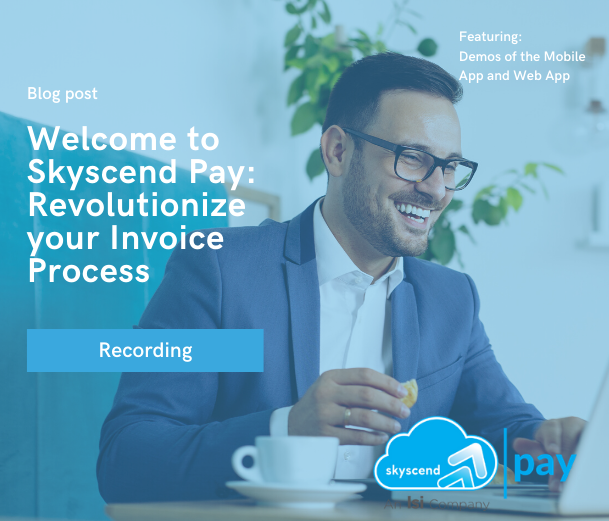 On September 10th, Skyscend hosted their first webinar on SkyscendPay (SP), their new invoice management solution. Built with the latest artificial intelligent technologies, SP ensures that invoice management is seamless and allows invoices of any form to be effortlessly inputted into the system. The webinar presented an overview and demo of SkyscendPay, showing how businesses can implement this automated solution to address their invoicing needs. Presenters included Steve Roach, Chairman for Skyscend, Suchir Kavi, Technical Lead at Skyscend, and Priyanka Patil, Ambassador for SkyscendPay. Together they provided a glimpse into the operations of SP and illustrated the full capabilities of the product both for web and mobile. A live Q&A was conducted at the end of the presentation, and the floor was opened for audience members to ask their questions to the Skyscend Technical Team.
About SkyscendPay
SkyscendPay transforms the procurement business processes through intelligent technologies. Current solutions leave clients to deal with various difficult issues:
Suppliers send invoices in non-structured means (e.g., via email)

Invoice management involves large manual data entry that is slow and error-prone

Invoice errors need to be resolved in a time-consuming discussion between both buyers and suppliers
Steve Roach spoke of how the challenge inherent in building a good invoice management system is maintaining accuracy while generating and processing up to thousands of invoices per day. To achieve procurement excellence in your business, SkyscendPay combines blockchain for security and robotic process automation, OCR for efficiency, and AI for accuracy. SP
has the ability to fully integrate with many popular procurement networks and ERP, such as SAP, Ariba, and S/4HANA, to build structures for daily invoices.
The intelligent import system of SkyscendPay tackles the challenges of non-ideal data sources, such as hastily taken photos, poorly scanned documents, and arbitrarily formatted exports. It consists of two stages, as the graphic below demonstrates:

Invoice Automation & Intelligence
cDuring the second half of the webinar, Suchir Kavi discussed invoice automation, error elimination, and informed analytics. SkyscendPay solves non-ideal data sourcing challenges from both the supplier and buyer ends of the supply chain. Kavi further explained that SP processes all invoices before they are sent to the buyer, allowing the supplier to make a quick unilateral fix if there are any discrepancies. For buyers, SkyscendPay's portal allows users to submit tickets to resolve disputes, which can be tracked on the main dashboard.

How to Implement
cPriyanka Patil walked the audience through the detailed steps of how to implement Skyscend Pay. She explained that SP is a secure SaaS-based RPA (Robotic Process Automation) platform, which automates your resource-intensive AR and AP process. Its machine learning-based OCR (Optical Character Recognition) engine powers all the transformation of your documents pain-free with 99% accuracy.

Skyscend Web is a responsive platform that works seamlessly on desktop, tablet, and handheld devices. Patil shared that one of her favorite features of SkyscendPay is called "Snap-it." As it sounds, "Snap-it" allows you to take a picture of your invoice and upload it wherever you are. Patil and Kavi also joined forces to present a demo of SP, which can be viewed along with the rest of the webinar in the embedded recording.
Questions?
If you have questions about Skyscend or SkyscendPay, please reach out to our team!
792 Adler CT,
Alpharetta, GA 30005
E: contact@skyscend.com
P: +1 (888)-447-0170